Our Car Locksmith Technicians Are Ready To Help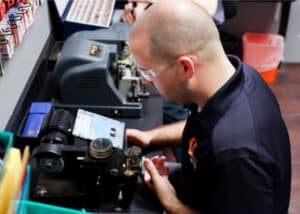 Our auto locksmith technicians are ready to help you, whether you are locked out of your car or just need an extra copy of your key. We also rekey auto ignitions and car door cylinders as well as sell and program car remotes. Our car locksmith services are not only affordable, but we can get the job done much quicker than the competition or the dealership. Call us today to get a free price quote for one of our automotive locksmith services.
As Houston's premier locksmith company, we provide a wide range of car locksmith services, including:
High Security "Laser Cut" Keys

Key Generation & Replacement

Broken Auto Key Extractions

Ignition & Car Door Cylinder Replacement

Vin Number Key Code Generating

Key Fob Battery Replacement
If you've lost all your car keys, no need to worry. We have a large fleet of mobile locksmith service vehicles ready to be called to your location, so you don't have to worry about towing your vehicle. All of our automotive locksmith experts have had a minimum of 50 hours hands-on training which allows them to generate, program, or cut and copy car keys for any year, make and model. Our car Locksmith Technicians are so skilled that they even service vehicles for most of the local dealerships in the area.
Guardian Safe & Lock provides automotive key services for the following brands:
Auto Locksmith Emergency Services
Have you ever found yourself in an emergency situation to where you've been locked out of your car? Our automotive locksmiths are ready to deal with any emergency situation that may arise with any kind of car. We provide quick & professional car lockout & emergency auto locksmith services on site. Our expert team of car locksmiths are trained and experienced in using the latest equipment and locksmith methods to open any model of car without causing any damage to your vehicle.
Transponder Key Programming & Duplication
Did you know that Guardian Safe & Lock sells, cuts and programs transponder keys and remotes for most vehicles? We can meet you wherever you are and cut you a new transponder key and have it programmed within a few minutes in most cases. Not only can we come to you and service your automotive locksmith needs, but also we can save you up to 60% off dealership prices. Any remote key or transponder key we sell is backed with a 90-day warranty on parts and labor. Our automotive locksmith experts are highly trained at performing even some of the most complex requests, give us a call today and see how much money we can save you.
Car Key Replacement & Generation
If you have ever lost your only copy of your car key, it can be very stressful and expensive if you go to the dealership looking for a car key replacement. Generating a new set of car keys from scratch is something that we are very familiar with, we deal with car key generating and remote fob replacement on a daily basis. Our automotive locksmith technicians have service vehicles stocked with the machines and tools necessary to get done almost any automotive key generation request needed. Our fleet of mobile locksmiths make the process easy by coming to your location, instead of paying to tow your vehicle to the dealership.
Broken Car Keys Extraction
Whether you've broken your key off in your ignition or car door cylinder of your vehicle, we can help. Extracting a broken key from an ignition or car door cylinder can be tough even with the right skill and tools. Please don't try to get it out yourself, the wafers inside automotive lock cylinders can be very delicate and trying to extract the broken key will most likely cause more damage. If you find yourself in a situation to where you need to extract a broken key from your vehicle's cylinder, please call and speak to one of our automotive locksmith experts today!
Automotive Ignition & Door Cylinder Replacement
Has your ignition, trunk or door cylinder been damaged due to theft or just normal wear and tear? Our automotive locksmith technicians are experienced in removing and installing vehicle ignition and door lock cylinders for most makes and models. We stock most types of ignition and door lock cylinders at our shops, so you don't have to worry about paying high dealership prices. Call and ask to speak to one of our trained automotive locksmith experts and schedule an appointment today!
Car Rekey Service
We can change an old or damaged automotive ignition or car door cylinder for most vehicles at an affordable rate. If you want your current key to work the new car lock cylinder our automotive locksmiths are here to help you reach that goal. Our auto locksmith technicians are trained in breaking down and rekeying almost all models of new and existing car lock cylinders to avoid any key problems. You can either call to have one of our mobile locksmiths come to your location or you can visit one of our local locksmith shops in the greater Houston area. No appointment is needed unless we need to come out to your location for a car locksmith service. If that is not the case then we advise you to stop by one of our locations and in most cases, our car locksmith technicians will have it done in under 20 minutes. If you need price quotes, feel free to call any of our auto locksmith locations near you.