We Are Here To Help With Any Emergency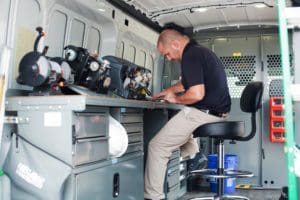 Whether you are dealing with a vehicle lockout to losing your house keys, there's no reason to damage your property trying to force it open. Call the professionals here at Guardian Safe & Lock for quality work and the best customer service in the field. Serving the greater Houston area for many years now, there's no one better in the business to call if you're locked out of your car, home, office, vehicle, or safe. 
Our standard business hours for our mobile locksmith service is 8 am – 9 pm. However, we do offer off-the-clock emergency services as a 24 hour locksmith company. Fielding mobile locksmiths all across the greater Houston area, our response time is the fastest in the industry. This ensures you won't be left waiting for hours in the event of an emergency. 
As Houston's premier locksmith company, we provide a wide range of emergency locksmith services, including:
Key Generation & Replacement

Vin Number Key Code Generating

Home & Commercial Lockout Services

Lock-out Eviction Services

Safe Lockout Services & Repair
Auto Locksmith Emergency Services
Our automotive locksmith technicians are ready to deal with any emergency situation that may arise with any kind of car. We provide quick & professional car lockout & emergency auto locksmith services 24 hours a day. Our car locksmiths are trained and experienced in using the latest technology and equipment. 
Have you ever caught yourself locking your keys in your car? There's no need to panic; we can open almost any make and model of car without causing any damage to your vehicle. We can even cut and program a car key replacement if you've got a broken key in the cylinder, at a fraction of the dealer's price!
Home Lockouts
When you're locked out of your home, there is no reason to break a window or do any type of damage to your house. The best option is to call for a professional locksmith service. There's no reason to weaken the security of your home by attempting to do it yourself. We utilize several different methods to gain entry into your home and will be sure your property is unharmed during the process.
Most locks work off of a pin or tumbler system and can be picked by a professional residential locksmith technician. If the lock is unresponsive to picking, the lock will need to be drilled. It is important not to drill your own locks because novice drilling may result in permanent damage to your door or may put you in a worse situation than before.
Commercial Lockout Services
When you're dealing with an office lockout or a tenant eviction, there's no reason to pry open the door and cause further damage. The ideal solution would be to call an experienced commercial 24/7 locksmith that could solve the lockout service with ease and efficiency. In most cases we can gain entry and rekey your locks in under 20 minutes.
Gaining Entry into Locked Safes
Our safe locksmiths are highly experienced and trained to gain entry into any residential and commercial safe they may come across. There are several different ways to attack a locked safe. Whether it is a manual combination dial or electronic keypad entry, our safe technicians know the correct drill points to the corresponding safe. Once our safe locksmiths open the safe, our trained safe technicians will patch and repair your safe as if it were brand new.